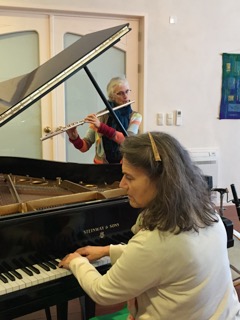 We are Veronika Simonett and Laura Stone, Another Time Duo, creating spontaneous music together with intuition, presence and playful dialogue. Veronika on alto flute and frame drum, Laura on and in the piano, both sounding with their voices.
The unexpected colors, the use of our instruments and the spontaneous structure invite listeners to open with curiosity. The space, the moment and the audience are then an integral part of the performance.
In this open space of possibilities, new sound worlds are created.
Laura and Veronika have been making music together since 2012 and have been concertizing since 2015.
A selection of Music of the Moment by Another Time Duo
Movies:
Suspended in Time – live concert June 14, 2015, Wenum-Wiesel, The Netherlands
Grenzeloos (Boundless) – live concert March 14, 2015, Deventer, The Netherlands
Audio recordings (Sound Cloud):
Puddle-Jumping – live rehearsal (iphone recording) August 11, 2016 Deventer, The Netherlands
Echo – live concert (zoom recorder) June 14, 2015, Wenum-Wiesel, The Netherlands
Nirvana – live rehearsal (iphone recording) February 24, 2016 Deventer, The Netherlands
Another Time – live concert (zoom recorder) March 13, 2016
Veronika Now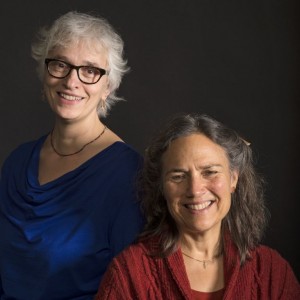 Exploring freedom of sound and the countless possibilities of playing the flute are the core of my music now. Experimenting with voice, the blending of voice and the sounds of the frame drum and the flute are the creative challenges that keep my music fresh.
Collaborating with other musicians inspires and nourishes me. In turn, I enjoy inspiring others with music so that we can let go together, melting into the intense experience of unbounded time and space.
Background
Born in Switzerland (1961) and living for the past 13 years in The Netherlands, I began intensively playing (classical) piano when I was 6, continuing into adulthood.
Then the wish arose to improvise and to play an instrument that I could carry with me.
I chose for flute and was fortunate to find an inspirational teacher who guided me in jazz, blues and improvisation. Thank you Ueli Derendinger.
In addition, I trained and work in voice and breath therapy.
In my business Klankverbinding ("Sound Connection"), I incorporate all of this.
www.klankverbinding.nl
Laura Now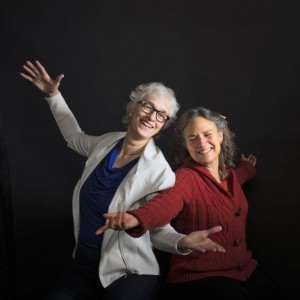 From the moment that I closed my eyes, placed my hands on the keys and listened from my whole being, spontaneous music arose in concert with Veronika. This intuitive way of using my classical training as pianist and composer, as well as free use of my voice, is real-time music-making that continues to grow.
Background
Born in the U.S. (1952) and living in The Netherlands since 1995, I began playing classical piano when I was 7. "Modern" music of the time was a very small part of my repertoire. My wish was to compose, but this did not come to fruition until writing to a part of  T. S. Eliot's "Four Quartets". This became my entrance into composition study at Indiana University, first with Bernhard Heiden and then mainly with Fred Fox. While there, I also sang and performed in The New Music Ensemble. I studied piano with Enrica Cavallo and later in The Netherlands with Lia de Bruyn.
My working life has been teaching T'ai Chi Ch'uan and practicing Buddhist meditation.
All of these elements combine to inform my performance.
In addition to spontaneous composition with Veronika and occasionally other musicians, I perform T'ai Chi dance improvisation.
Contact: